Registering for a Retreat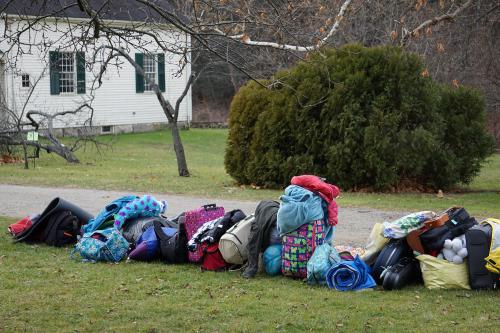 Registrations begin as soon as the previous program ends.  For example, you may register your child for the September retreat as of the afternoon of the last day of Sessions in August. 
(Photo by Kevin Lee ©2019)
The next JYM Retreat is May 21-22, 2022 at Woolman Hill in Deerfield, MA. Click here for information and registration.
Fees
Our fee structure is based on the Pay-As-Led approach adopted by New England Quakers several years ago—it's about trust and abundance. Families can pay less or more depending on their budgets–from giving more to support others to zero dollars—no questions asked. We are aware that Covid-19 has significantly impacted many of our families' income levels.
Health Form & Permission
Health & Permission forms can be downloaded and completed here. We must have a completed Health & Permission form on file for your child each program year. If your child attends Sessions, we can use their Health & Permission form as long as all information remains current.  If you would like to speak confidentially about a specific concern regarding your child, please call or email Gretchen. All records and information contained on the Health and Permission Form are confidential. 
If your child has medications, special diets, or other needs
Please be sure to indicate on the registration and the health and permission form any special diets, allergies, or support your child will need while on in-person retreat with us.  We will need the name of all medications they will be taking, the exact dosage and times—whether or not they self-dose. You can find more information on how we ensure your child is well cared for here.
You may read our Statement on Inclusion here. Please be in touch with Gretchen if you have any concerns or questions.  We are proud of our history of helping children with a variety of accommodation needs thrive in our program—a testimony to our extraordinary staff and loving community.
What to pack
See the file below for suggestions on what your child needs for a weekend with us!