Frequently Asked Questions About Faith & Practice
Watch this slideshow from the Faith & Practice Revision Committee, then scroll down for further details.
At the bottom of the page are links to the working table of contents and a brief history of New England Faith & Practice.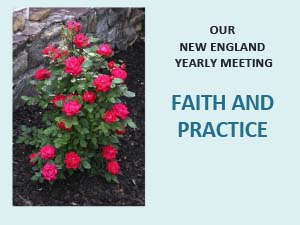 Frequently Asked Questions about the Revision of the NEYM 1985 Faith and Practice
What is Faith and Practice? Is it a statement of faith, like a creed?
Why is Faith and Practice being revised?  Who decided to do that?
How was the Revision Committee chosen?
Are Revision Committee meetings open to anyone who wants to attend?
How will decisions be made about the revised text?
When the committee circulates texts to monthly meetings, or distributes them at Yearly Meeting Sessions, what should we do with them?
What is Faith and Pra​ctice?  Is it a statement of faith, like a creed?
As Friends, our beliefs about and experience of the Divine are reflected in the details of how we live, individually and together, and particularly in how we conduct the affairs of the​ Society. Faith and Practice (called in some places and at some times Book of Discipline) records this experience of Friends, with a focus on Friends in a particular region. It is both descriptive of who we are and how we do things, and prescriptive in inspiring Friends today to live lives of integrity encouraged by how Friends have witnessed to their faith in a variety of places and times.
Faith and Practice serves a variety of needs, including being a resource for individual growth in the spiritual path as Friends understand it, a guide to Quaker practice for meetings, clerks, and committees, and an orientation for inquirers and prospective members. 
In Friends' polity, each Yearly Meeting is responsible for the practices of Friends within its bounds. In the early decades of the Society, each meeting kept a handwritten notebook or "Book of Extracts" in which it recorded advices such as those received from London Yearly Meeting, considered the "mother" Yearly Meeting, and those derived from its own deliberations. By the early 19th century these books were printed, with the advices and directives generally organized alphabetically. The 1809 edition of the Discipline of New England Yearly Meeting, together with similar editions from other American Yearly Meetings, has been reprinted in the book The Old Discipline: Nineteenth-Century Friends' Disciplines in America (Quaker Heritage Press, 1999).
Why is Faith and Practice being revised?  Who decided to do that?
Each Yearly Meeting periodically revises its Faith and Practice to reflect changes in its practice and new understandings of how to live Quaker faith in a changing world. Since the p​resent NEYM came together in 1945, there have been three major editions, about a generation apart, published in 1950, 1966, and 1985.  Editions before 1945 are describ​ed more fully in the history of Faith and Practice in New England, below.
In 1999, after a thorough review of the 1985 edition, a "review" committee recommended to Permanent Board that a new major revision be undertaken. It was felt that a revision proce​ss would enable the entire Yearly Meeting to engage with Faith and Practice, and to gauge how the Yearly Meeting may have changed since the 1985 edition. The review committee also realized that the "practice" sections were not always sufficient or appropriate, especially in newer meetings that had few Friends with long experience.
Finally, the review committee hoped that the revision process would nurture the individual and corporate spiritual life of the Yearly Meeting.
The recommendation to undertake a major revision was approved by the Yearly Meeting at its 2000 Annual Session.  The Revision Committee was appointed in 2001.
How was the Revision Committee chosen?
The Yearly Meeting Nominating Committee discerned a list of seasoned Friends who would represent both the geographic spread and the broad range of spiritual practice within the Yearly Meeting. It includes pastors and "unprogrammed" Friends, birthright and convinced Friends, a variety of life-experiences, and an age range from young adult to senior citizen. Instead of rotating annually, as most Yearly Meeting committees do, the committee was appointed to serve for the duration of the project, estimated to be eight to ten years.
Several members have had to resign due to moving out of the area or other shifts in calling and commitment.  The Yearly Meeting Nominating Committee has brought forward names to replace these Friends, trying as far as possible to maintain the committee's balance.
Are Revision Committee meetings open to anyone who wants to attend?
The revision committee's all-day meetings, about once a month, are intense and focused work sessions. We have developed a strong sense of trust and uninhibited sharing, with an appreciation of the unique gifts each member brings to this work. Our discernment is that it would not be possible to maintain this trust and sharing, while proceeding diligently with our task, if our meetings were open to anyone who wanted to drop in. 
Friends inform our work by material they send us, whether in response to draft texts or on other matters they feel we should address. Everything submitted to the committee is distributed to all its members for their consideration.
The committee keeps the Yearly Meeting informed of our work through our web site, mailings to monthly and quarterly meeting clerks, and reports to Sessions and the presiding clerk during the year.
How will decisions be made about the revised text?  
Any revised text of Faith and Practice must be approved at two annual sessions of the Yearly Meeting, and will be widely distributed throughout the Yearly Meeting during the revision and approval process.
As we currently envision it, the process will look something like this:
The Faith and Practice Revision Committee may prepare a working paper on some topic.  This is not necessarily text that will end up in this form in the final document. It does, however, reflect considerable threshing and redrafting within the Revision Committee. Working papers are circulated (at Yearly Meeting sessions, through this web site, and by mail to monthly meetings) for discussion and written responses by meetings and individuals.
If a working paper has been previously circulated, the committee reflects on the responses. Based on the extent of the revisions that are necessary, the committee may either circulate a second working paper or prepare a draft to present at Yearly Meeting sessions for preliminary approval. The committee has realized that it may be difficult to consider isolated parts of the text.  The committee has circulated a working outline for the whole book, and intends to update it as necessary so as to indicate where each section of draft text appears in the whole. The current working outlook is available below.
Once the Yearly Meeting has given preliminary approval to a particular text, meetings and committees are encouraged to start using it, to see how it works in practice. The committee may do further minor editing for style and clarity, although major revisions would require another preliminary approval.
Once the committee is ready to present the particular text, it will bring it to another Yearly Meeting session, perhaps as part of a group of texts, for final approval.
The time period between preliminary and final approval may be more than one year. This differs from the process for minor revisions. We feel it will be helpful in allowing both the Committee and the Yearly Meeting to have larger sections in front of them before giving final approval to any, knowing that the precise formatting of a given section will be influenced by what comes before and after.
When t​he committee circulates texts to monthly meetings, or distributes them at Yearly Meeting sessions, what should we do with them?
The committee invites meetings to use the working papers and draft texts in ways that encourage sharing about core questions of faith and Quaker practice. The committee invites individuals and small groups to reflect on the texts as well and send written feedback as led. The fruits of any of these labors will be greatly appreciated by the committee.
Send comments to the Revision Committee.
The committee also invites Friends to send quotations from other sources for inclusion in the final text, although we are certain that we won't have space for all the wonderful things people send us! Please send complete bibliographic information with all quotations so we know how to reference the original texts and whom to ask for permission to use them. A form for submission of quotations can be found on the Faith and Practice web site for downloading, or requested from the Yearly Meeting office. 
Some questions to consider when preparing to discuss draft texts:
Do you want to turn the results of the discussion into a response to send to the committee?
What format do you want to use?  Worship sharing? Facilitated discussion? Open discussion?
How do you plan to facilitate the discussion?
What materials might be made available in advance that would be helpful in preparing participants for the discussion and/or worship sharing?
Can the sessions be organized in a way that nurtures the spiritual life of your community?
Suggested questions for individuals and groups: 
What parts of the text have life for you? (It is often helpful to start here rather than with "what is problematic?")
What I would like to see more of is ...
This chapter describes both an understanding and a practice. Is your understanding, and your practice, reflected in this document?
What parts of the chapter (if any) were particularly inspiring to you? Could these passages be a source of continuing inspiration to you?
Try to remember your initial encounters with Friends, and how you learned about Friends beliefs and practices. Which parts of this document could have been particularly helpful to you? Are there additional sections needed to speak to the kinds of questions and concerns you had at that time?
Or, if you are new to Friends, how helpful is this document in giving you an understanding of what Friends believe and/or how Friends do things?
Does this document adequately reflect the diversity of Friends in your meeting? In New England Yearly Meeting as you have experienced it? Is there additional material that should be included?
What additions to or changes in this chapter would make it more helpful for you?
Are there significant errors in this chapter that you believe need to be corrected?
For texts given preliminary approval, are there editorial changes (paragraph flow, sentence structure, word usage) that would make the text clearer?
Still have questions?
If you have questions about the revision process, email the clerk of the committee to start the conversation.