Frequently Asked Questions about JHYM
What do you do?  We eat, sleep, worship, play games, sing, do crafts, help with chores, talk about lots of things in small groups, and hang out during free time. Art is often part of our program. Occasionally we go on field trips or do service projects.
What are the timelines for JHYM retreats?  Registration is at 6 p.m. on Friday night, and we wrap up on Sunday at 12:30 p.m.
Do 6th graders go to JYM or JHYM?  Some 6th graders stay in JYM and some move up to JHYM. Please read our annual letter here for more information.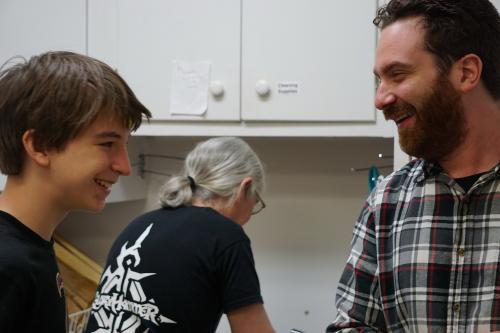 How do you select staff?  We select staff with great care in accordance with the Yearly Meeting's Child Safety Policy. They are amazing people, with a wide array of skills and interests from art, music, and photography to social activism, Quaker process, and physics.  (Photo by Buddy Baker-Smith)
Where do you sleep?  There is usually a choice of sleeping areas -- mostly on floors, so it's great if you can bring a yoga mat or sleeping pad. Staff are present everywhere JH'ers sleep.  
Can I come to part of a retreat?  Generally, no. The most amazing thing about JHYM is the community that we build. This takes time and space—it really doesn't happen on a drop-in basis. But, we do make exceptions sometimes, so you can ask Gretchen about this.
Do I have to be a Quaker or the member of a Meeting?  No. You do have to be willing to be fully engaged in all parts of our community, including being open and inclusive to everyone, solving problems in the manner of Friends, and sharing worship and small group discussions.
The retreat is far from my house. How do I get there?  You will receive a registration list 3 weeks before the retreat that you and your parent can use to arrange carpools. Gretchen is always available to help and to brainstorm options including connecting families and/or staff, contacting local Meetings, using public transportation, or driving attenders herself. Advanced notice increases the chances of finding a solution!
Will there be food?  Of course! Our retreat chefs are not only great cooks, they are also wonderful people who do all they can to accommodate everyone's dietary needs. When you register, just let us know of any allergies or diets you have (such as being a vegetarian). We will take good care of you!
Can I bring my homework to the retreat?  You can, but you probably won't get much of it done. We encourage you to leave it at home, though you'll be tired and relaxed (in a very good way) when you get back Sunday afternoon.
Is scholarship help available?  Yes! Our fee structure is a version of the Pay-As-Led approach that New England Quakers adopted for Sessions several years ago.