Welcome to 2021 Online Sessions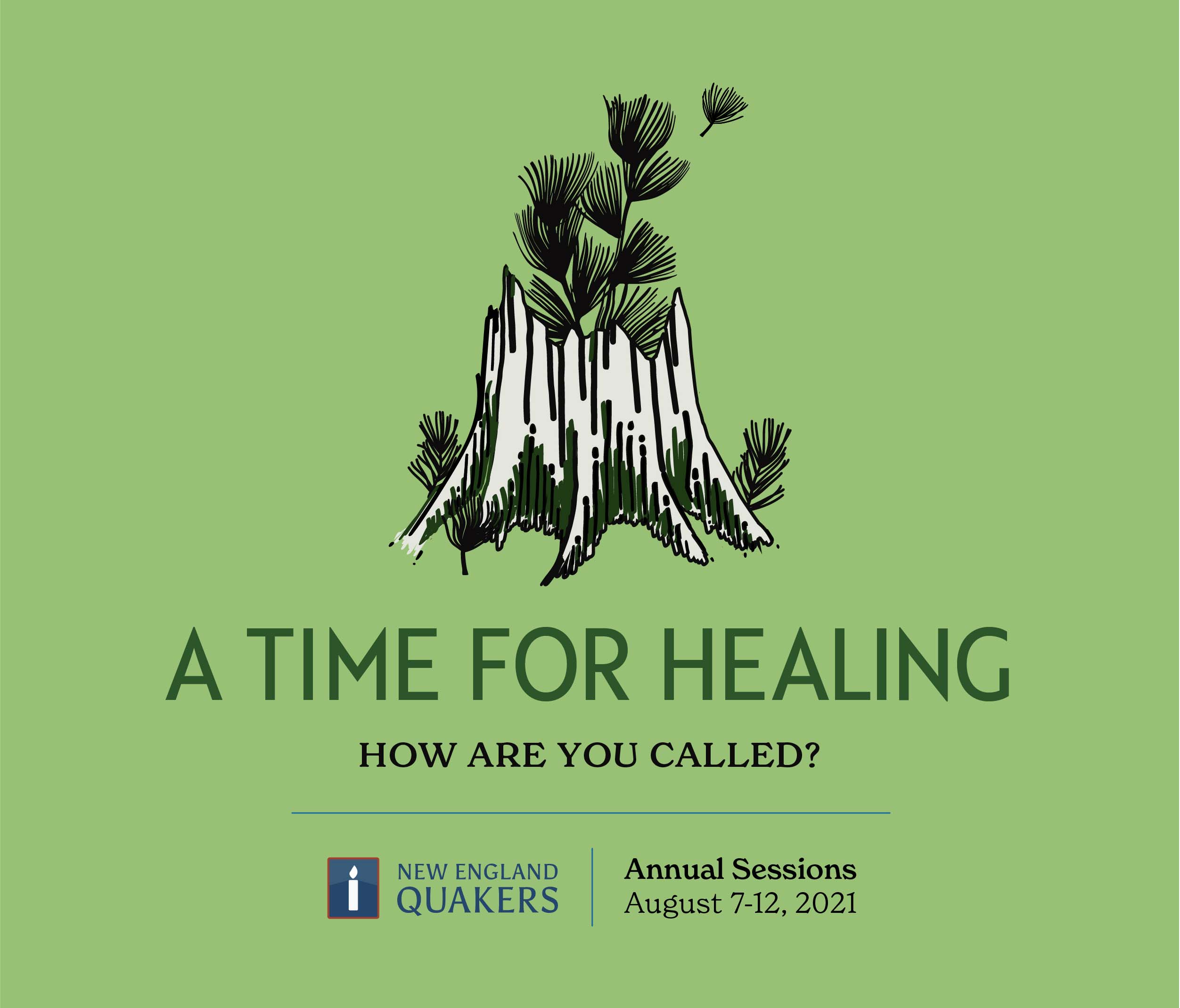 Dear Friends across New England,
Why do Friends gather together? We gather because we understand on some level that we learn from each other, and do better at discerning God's will for us. And, because in most cases, we like each other! Why do Friends gather together for the Annual Sessions of New England Yearly Meeting? While there are different  aspects of Sessions that appeal more to one or another, ultimately, it's the same thing: We hear voices and perspectives we don't hear in our own meetings. We meet people we come to love and respect. We are challenged in new ways to live more fully into the life that is intended for us. We find that when Friends gather, God shows up in unexpected ways. 
We're writing to invite you to join with fellow Quakers from August 7 through 12 for Yearly Meeting Annual Sessions. While the pandemic seems to be loosening its hold on New England, it's clear that large gatherings will still be uncomfortable and inadvisable, so we will be meeting primarily by Zoom again. One benefit of meeting via Zoom is that Friends can participate in Sessions without the need to make their way to Vermont.   
Last year at this time, we had hoped that on-line Sessions  would be a one-time event. A year later, we've all been through a long and difficult journey, challenging for all and more painful and costly for some. And while some Friends choose to not participate on-line, many meetings report attendance from those far away, or from those who find it difficult to travel and celebrate being able to join without leaving their homes. We have learned new ways to nurture community without being in person. Many of us have participated in worship and business, conversations and even an occasional meal on Zoom.
Knowing that some Friends have begun gathering together in limited numbers in our local meetings, we expect there will be some interest in in-person participation, so we have intentionally structured our opening day, Saturday, August 7th, to allow time for local meetings to gather for fellowship, worship, and connection in small groups in their region. 
We hope our theme,  "A time for healing: How are you called?", reflects both the grief we bring—from lost lives, interrupted living, and deeper understanding of the effects of empire—and our continuing and growing commitment to working for justice. We expect that different aspects of the theme will be touched on in the Plenary, Bible Half Hours, business sessions, and Home Groups.
After last year's experiment with a longer format, we will return to a Saturday-through-Thursday schedule more consistent with the in-person schedule in recent years. A more detailed schedule is being finalized, and will be shared soon.
Highlights
Speakers
Jay O'Hara (Portland, ME, Friends Meeting) will give the Bible Half-Hours. Jay is familiar to many Friends as someone who is called deeply to climate activism. Where his actions are the testimony to his faith, and those who have walked with him have witnessed that faith in action, the Bible Half-Hours will be an opportunity to hear how the Bible grounds and inspires him. Be prepared to be challenged!
The Saturday Plenary will be a conversation between gkisedtanamoogk (Mashpee Wampanoag) and Shirley Hager (Winthrop Center, ME, Friends Meeting). Shirley and gkisedtanamoogk met at NEYM Sessions in 1986, and subsequently arranged  f a series of gatherings to bring together settlers and Indigenous peoples from throughout Wabanaki territory (Maine and Atlantic Canada). Participants in these gatherings explored how to move past generations of destructive encounters between Indigenous peoples and settlers and into authentic relationship. In the format of a conversation, gkisedtanamoogk and Shirley will speak to us about the healing this group found, and what that experience has to offer us.
Monday evening, John Calvi (Putney, VT, Friends Meeting) will bring a plenary message. John came to Friends at 16 years old to Middletown, CT, Friends Meeting.  He has followed a leading to express a spiritual gift for releasing pain from trauma for 38 years.  Speaking to 14 yearly meetings across the US and Canada, John is well known among Friends.  He's the founding convener of the Quaker Initiative to End Torture- QUIT since 2005 and was a Released Friend under the care of Putney Meeting VT for 15 years. He and his husband Marshall Brewer live in a small house in the Vermont woods and have been together for 35 years. John will speak about the obstacles to, and lessons of, being faithful.
Tuesday night, Hanifa Nayo Washington will offer a program. Hanifa is a cultural producer and sacred artivist who has been combining arts, healing, and activism to make the world a better place for more than twenty years. She is the Principal Organizer & Co-Founding Practitioner of One Village Healing, a wellness and resilience initiative dedicated to creating spaces, gatherings, and programming rooted in the values of the healing justice movement. Hanifa views her creative gifts as a radical tool for liberation, healing, and community building.
Families and Youth
For several reasons, including feedback from last year, this summer the youth ministries staff is emphasizing additional Junior Yearly Meeting (JYM) and Junior High Yearly Meeting (JHYM) online programs prior to sessions. Thanks to the diligent work of many, a substantial number of Quaker children and youth will have the opportunity to attend in-person programming at Friends Camp this year, including many teens during the week of Sessions.

With sadness, we recognize that the particular challenges and constraints of organizing Sessions this year don't allow us to more fully respond to the diverse needs of families. Within these limitations, however, Friends are actively working to offer a variety of intergenerational opportunities during our time together—we'll be sharing more about that soon. We look forward with hope to being together in person in a fuller way, across the generations of our community, at Sessions next year, in person.
We Hope You Will Join Us!
We have some challenging agenda items for our Business Sessions which will allow us to engage in important discernment, and which will require all to be grounded and to listen well to the Spirit and to one another.
Again this year, Home Groups will offer opportunities for grounding through small-group spiritual support in several sessions through the week
There will be many opportunities for informal fellowship, conversation, play, and prayer.
We hope you will join us for some or all of this year's gathering—a chance to meet new Friends, catch up with old friends and a time to set aside (some of) your daily cares!
Bruce Neumann, Presiding Clerk
Rebecca Leuchak, Sessions Committee Clerk
New England Yearly Meeting of Friends