Parents who are considering sending children to JYM and JHYM Retreats often find it helpful to know a little bit about me.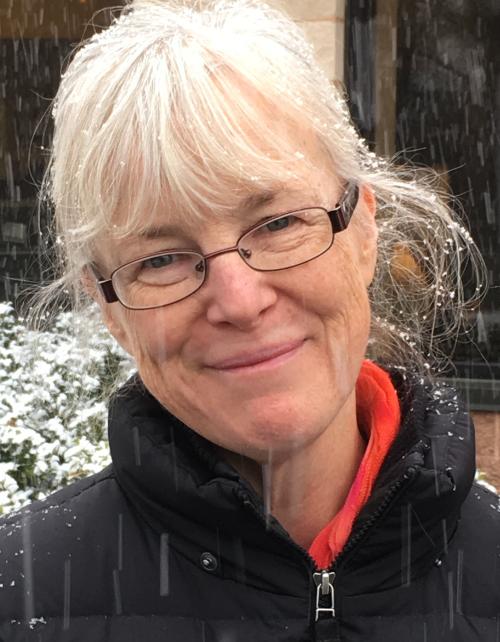 My background is in social work and education. I started staffing JYM in 1989 and have been part of hundreds of retreats and youth programs since then. Bread baking, music and art are some of my taproots to prayer. My life is generally full to overflowing, with coveted times on my bicycle, in my garden or kitchen, and with friends and family. My husband Buddy is a fabulous youth staffer. We have 3 adult children who thrived in Yearly Meeting's youth programs and have taught me volumes about life, humility, gratitude and nurturing. They have always been some of my best supporters and advisors. (Photo by Buddy Baker-Smith)
My credo in ministry:
I believe that God is present every moment of our days and that adults and children alike can and do know this Loving Presence. My role in ministry is as a baker is to bread. God provides the miraculous leavening as grace in our midst. I am asked to tend the rising by being fully present, by listening deeply, and by offering simple sustenance for the journey. Gentleness, intentionality, patience, clarity of heart and mind, constant prayer, and humble trust in the Light are essential when nurturing the tender hearts and souls of God's children. Laughter and joy are as necessary as silence.
At every age, we can know each other as brothers and sisters in the Stillness of our covered Worship and in safe and loving faith communities. Rooted in this blessed communion, we can find support for new growth and sheltered rest from the world's challenges. Creativity and beauty, whether in music, art, words, movement, or nature, all help to nourish and stretch our relationships with God. Appropriate loving touch and simple acts of kindness and compassion are Love in Motion.
Programs, themes, song lists and supplies are wonderful, but all we really need is God's registration and attendance. The essence of our ministry is to pay attention and be fully present to the tender hearts of those before us as we go about our work and play in holy fellowship. What an incredible joy and honor it is to be here in God's Kitchen, witnessing grace and love growing in and around us all.
-Gretchen Baker-Smith