Child Care at 2022 Sessions
Welcome All!
We are very excited to meet/see you children in a couple of weeks at Castleton University! After the last few years apart, it will be joyful to start to rebuild connections and nurture the youngest members of the NEYM community in the Child Care space.
Our Covid Safety Plan
Yearly Meeting Sessions as a whole has adopted a full set of Covid protocols and guidelines as recommended by the CDC, state requirements, and Castleton specific requirements. In addition, we have additional precautions in place in the Child Care spaces with the understanding that children will be unvaccinated and some are too young to be masked/require masks. 
Child Care staff will all be testing every day, regardless of symptoms. 
Any child who shows symptoms of Covid (or other illness) will not be able to attend until they are 24 hours symptom free and have completed an antigen test (if they are old enough to be eligible).
Please look through the Covid Plan, particularly the specific protocols for Child Care. Do not hesitate to ask us questions, or share your concerns. You are also always welcome to contact Ginny Kristl our Covid Coordinator at [email protected]. Straddling a line that does all we can to ensure children's health and safety while also providing a safe, joyful, and loving experience for them and you is our mission!
Child Care is in Suite 102 in Castleton Hall. 
It's the end of the dorm closest to the family neighborhood, on the first floor. You can get there from the main doors of the Hall or from the back driveway. We'll help you find the easiest route!
Time to Ease In/Say Hello
We are aware that some children will need extra time to feel comfortable staying with us. If you are on campus Friday evening, you are welcome to pop in and say hello while we are setting up. On Saturday afternoon, you are welcome to come anytime after 2 to say hello, hangout with your child, and check out the space. The first home group is at 3:30, so there will be a lot of time for this first transition.
The Schedule
We will be available to care for your children during the following times:
Saturday: 2:30 – 5:15pm 
Sunday: 8:15 – 11:15am & 1:00 – 5:00pm
Monday, Tuesday, Wednesday: 8:00 – 11:30am & 12:45 – 5:00pm
We really appreciate respect and support for our opening and closing times. However, we are aware that some families will also be picking children up at JYM. Let's talk! We can help problem-solve ways to do this!
What We Do
In our program, we play indoors and out (with a water table, so no swimming, but plenty of cooling water in the heat), make art, make messes, clean up, sing songs, do puzzles, play, play, play, eat snacks, and rest. Babies, and others who prefer to sleep enclosed, have their own dedicated pack-n-plays; others do yoga to unwind and rest on mats.
Snacks
Water, fruit, wheat-based crackers with sunflower butter, and oat-based cereal will be provided as snacks. If your child is unable to eat these, please bring special snacks for her/him/them. We are happy to handle frozen/fresh breast milk and have a bottle warmer for bottles of all sorts.
What to Bring for your Child
Every time your child comes to the child care program, please bring a bag labeled with your child's name that contains the following items: 
sun hat
full change of clothing
swimsuit or swimmy diaper (if not potty trained) for splashing, not swimming
towel
diapers and wipes (if needed); we are happy to accommodate cloth diapering.
Please label everything. The Child Care Program is a busy place. Labeling everything will help to smooth transitions and allow us to more easily care for your child's needs.
Sunscreen
Due to the number of children and the wide options available for sunscreen, we have found it best for you to do this for your child.
Please be in touch!
Help us to get to know your children in any way you'd like. Tell us what makes them and your lives joyful or challenging. Ask questions about what to expect. Ask for what you need. We have such a short time together, and helping us get to know you in advance is incredibly helpful.
Meet Rainer Humphries, Our Child Care Coordinator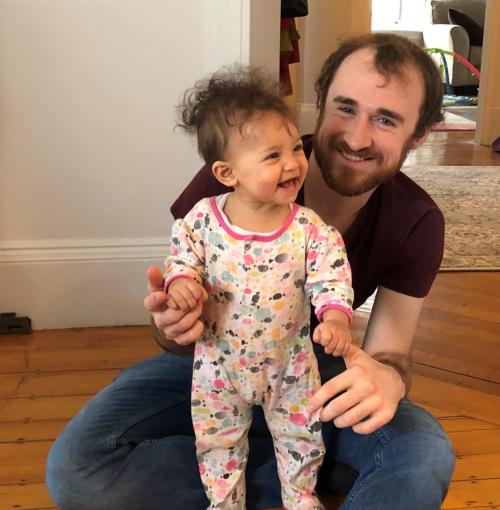 My first Yearly Meeting was in 1999 when I was 4 years old. The youth programs are some of the best memories of my life. I've always loved working and playing with kids - especially babies - and after high school, I began staffing in the Child Care Program. I knew it was the right fit. Professionally I run a Mathnasium tutoring center outside of Boston, and babysit whenever I can make time and find a friend to support. I'm excited to be our childcare coordinator this summer and look forward to helping rebuild this community after the past few years!